AIprofilepic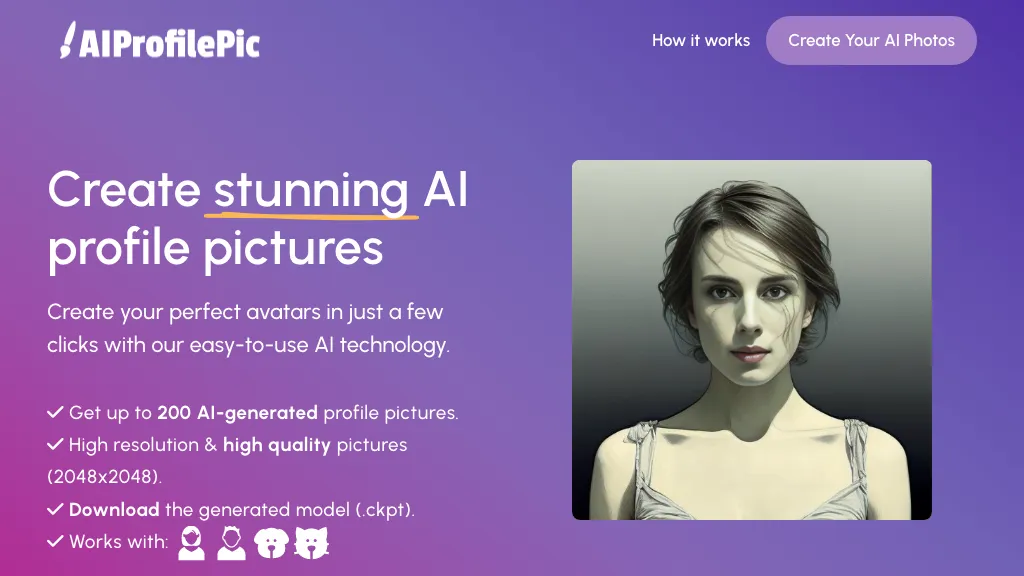 Visit AIprofilepic's Site Save
AIProfilePic.art is an AI tool that creates stunning profile pictures using AI technology. Users can create perfect avatars with over 200 AI-generated profile pictures available for high-resolution download. The tool utilizes a unique approach to photo generation which ensures unbeatable photo quality, and an avatar creation that combines the power of AI along with AI-backed quality control system for top-notch quality avatars. Customers can upload up to 15-20 photos of their subject, adjust and crop using the online photo editor, choose their favorite style from a list of over 70 available art styles and get an awesome AI-generated picture in about 2 hours.
AIprofilepic possible use cases:
Create professional-looking avatars for social media profiles.
Generate unique profile pictures for online dating profiles.
Create high-quality avatars for gaming or virtual reality platforms.

How do you rate AIprofilepic?
5 0 ratings
Breakdown 👇
AIprofilepic is not rated yet, be the first to rate it
Featured Tools 🌟
✉️ Newsletter
Stay up to date with AI news, updates, discounts and more!
🔥
Create your account, save tools & stay updated
Receive a weekly digest of our handpicked top tools.
Unsubscribe anytime