AI Chat Bestie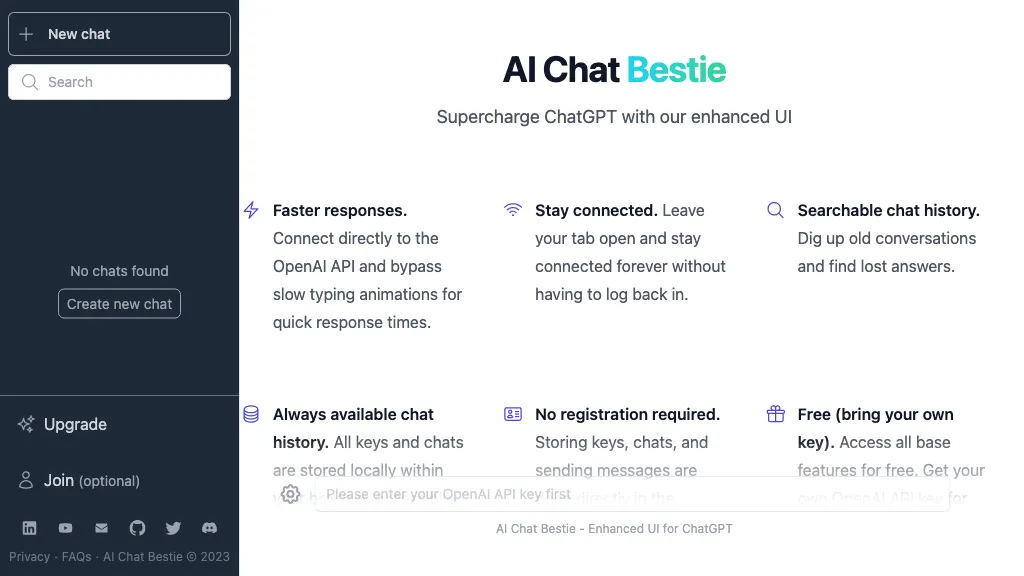 Visit AI Chat Bestie's Site Save
What is AI Chat Bestie? 5 0 ratings
The AI tool is an AI chatbot called ChatBesti. It has a feature called Supercharge that enhances UI for faster response time and direct connection to OpenAI API for quicker responses. It also offers a searchable chat history for easy access to past conversations. The key chat is stored locally in the browser for easy access and does not require registration. The tool offers free access to its basic features and provides an option to get an OpenAI API key for free.
AI Chat Bestie possible use cases:
Customer support.
Personal assistant.
Language learning.

How do you rate AI Chat Bestie?
5 0 ratings
Breakdown 👇
AI Chat Bestie is not rated yet, be the first to rate it
Featured Tools 🌟
✉️ Newsletter
Stay up to date with AI news, updates, discounts and more!
🔥
Create your account, save tools & stay updated
Receive a weekly digest of our handpicked top tools.
Unsubscribe anytime